AFFORDABLE SOLAR SERVICES
WE MAKE GOING SOLAR AFFORDABLE FOR EVERYONE
NOW INSTALLING ENPHASE SOLAR SYSTEMS
AFFORDABLE SOLAR SERVICES
WE MAKE GOING SOLAR AFFORDABLE FOR EVERYONE
Illuminate Your Home with
Solar Energy
Empower Your Home with Affordable Solar Services
Welcome to Affordable Solar Services: The highest rated Solar Energy installer in Brevard County, proudly earning a solid 5-star rating across 100+ Google reviews. We serve the Space Coast, Treasure Coast, and all surrounding areas including Melbourne, Palm Bay and Viera. Whether you need a cost-effective Solar Pool Heater to double your swimming season, a full Solar Photovoltaic (Solar PV) System for energy independence, or a solar system removal and replacement for a new roof installation, we make going solar affordable for everyone! Harness the sun's power to brighten your life with our expert Solar PV installations, top-of-the-line Solar Pool Heaters, and battery backup solutions, enabling you to transition your home to clean energy and reduce your energy bills. Visit our Solar Pool Heater and Solar PV panels pages, to learn more about our Solar Services, contact us at 321-576-6156 for any additional information. We are committed to providing prompt and helpful assistance!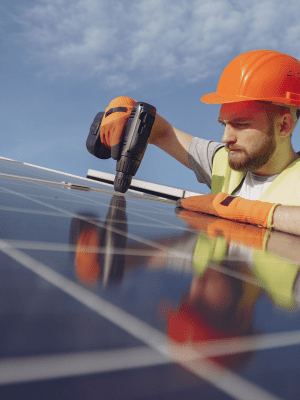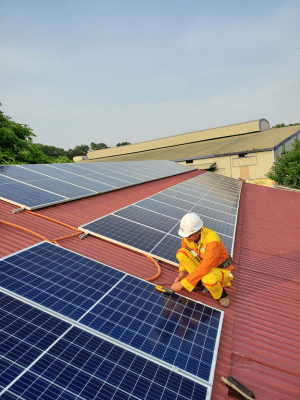 How Does
Solar Energy
Work?
If you've been considering a transition to solar energy, you may find yourself asking: "How does solar energy work?" Solar energy works by harnessing the power of the sun to produce electricity that can power your home, reducing your dependence on the grid, and helps you cut down your energy bills.
Here's a simple breakdown of how solar energy works, particularly focusing on Solar PV (Photovoltaic) technology:
Solar Panel Absorption: Solar panels are typically mounted on your roof where they can get the most sunlight. These panels are composed of photovoltaic (PV) cells, which absorb sunlight during the day.
Conversion to Direct Current (DC) Energy: The PV cells convert the absorbed sunlight into direct current (DC) electricity. Each cell produces a small amount of electricity, but combined, they generate a significant amount of energy.
Conversion to Alternating Current (AC) Energy: Your home runs on alternating current (AC) electricity, not DC. Therefore, the DC electricity generated by the solar panels is converted into AC electricity using an inverter.
Powering Your Home: The converted AC electricity is then sent to your home's electrical panel, where it is distributed to power lights, appliances, and other devices.
Net Metering: If your solar system produces more electricity than you use, the excess power is sent back to the grid, spinning your electricity meter backwards. This process is called net metering and can result in even more savings on your energy bill.
Solar energy refers to a green, renewable power source that provides significant environmental and economic advantages over traditional fossil fuels. With today's advancements in Solar PV technology, it's much easier and more affordable to go solar.
Solar pool heaters add no additional cost to run and have a lifespan 4 times that of traditional electric or gas pool heaters.
The Benefits of
Solar Energy
Get more than just power with solar. From huge savings to increasing your home's value, solar offers a myriad of advantages
1. Benefit from Solar Tax Credits: Install solar panels and take advantage of solar tax credits. It's not just an investment in your home, but a boost for your wallet.
2. Trusted Solar Installers: With our expert team of in-house solar installers, (we never sub contract your installation) you're guaranteed quality workmanship and excellent service.
3. Boosted by Battery Backup: Keep your home running smoothly even when the grid goes down, thanks to our efficient battery backup solutions.
A big part of our business model is transparency. Whether you're interested in Solar PV Panels to power your home or business, or a Solar Pool Heater to enjoy your pool all year long, we want you to feel confident in every step of your journey to Solar Energy. As part of that, we have broken down our process into six easy steps so you know exactly what to expect. From start to finish, your solar journey can be complete in as little as three weeks!
#1 ENERGY PROPOSAL
The first step in your solar journey is the energy analysis and proposal. Here, we work with you to determine your energy needs then deliver all the product options, costs, and payment options available. It's fast, free, and friendly with absolutely no pressure or gimmicky sales pitch.
#2 ENGINEERING
After you have taken your time to research us and our proposal and you have excepted, we will then proceed with site-specific engineering. This process usually take 1-2 weeks to complete and receive the plans.
#3 PERMITTING
The one part we have little control over. Depending on your building department jurisdiction this portion of the process may be as fast as 3 days, or potentially as long as 3-4 weeks.
#4 INSTALLATION
once the permit is issued, we will install your new solar system within a week. since we worked behind the scenes during the permitting process, all of your material will already be prepped and ready to go. depending on the complexity of your system, this may take 1 day, or could go for 3 days
#5 INSPECTION
we cannot turn your system on for good until FPL swaps your meter out, so we try to move as fast as possible with your local jurisdiction to schedule your inspection ASAP. Upon passing final inspection, we will send the results to FPL and they will schedule date to install your new bi-directional meter
#6 ENERGIZE!
once FPL completes the switching of your current meter for their bi-directional meter, we will be issued a Permission to operate notice. at that point your system will activated for good, and you will start producing your own energy!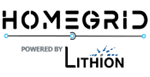 After spending many years in marketing and sales, the countless evenings, weekends, and holidays away from my family finally caught up to me and I found myself praying for a new career. The same day I finally broke down and prayed for a new direction, an old friend reconnected with me and told me about his new career in solar energy. After riding along with him for a short period, I knew this was the industry I belonged in!! After experiencing a couple of the worst, most unethical companies in the business, I finally landed with a great local company. This company the best of the best, in every way, the quality of their work, the attention to detail, the integrity, they had it all except for one thing, they charged way too much, they insisted on making a "home-run" on every single installation, often forcing homeowners to go with a cheaper more inferior product/installation. After almost a decade with that company I decided to strike out on my own and make sure I carried the same quality, ethics and "each customer is my only customer" attitude, with more AFFORDABLE prices, I wanted to make sure everyone could get the same great products and installations for a fair price. If you'd like to learn a little more about us and our approach to your solar independence, visit out our story. Thanks for giving our team a look and don't hesitate to give me a call! 321-576-6156
Randy
Owner
Zack is our resident "Contractor In Training". Before starting his freshman year in high school, Zack has just finished his second summer as an apprentice with Affordable Solar Services. Not only is he an up and coming track star, he loves spending time on roofs. His first summer as an apprentice saw him doing evaluations and new system proposals, learning how to properly measure pools and calculate kWh usage. Zack's second summer apprenticing started the same, but he soon found himself begging to be on roofs, working with his hands, so he got his wish. He started small with service calls and leak repairs, and by the end of summer, found himself on roofs with the rest of the team doing full new system installations. I couldn't be any more proud as a father and can't wait to see him take control of the family's business as he grows and matures!
Zack
Contractor in Training
Not only is Frank our resident aerospace and aeronautics engineer, he is also a first time father!! Frank spent years with a large local military engineering firm, and when the economic crash occurred, he found himself seeking other opportunities outside of engineering. After learning many different skills to compliment his engineering degree, he landed with Affordable Solar Services, and what a great blessing for us. With Frank's great wealth of engineering knowledge and problem solving, there is no obstacle that can't be overcome.
Frank
Curious About
Solar Energy
For Your Home?